Eyes by Misslyn
Whether subtle, striking or colourful – when it comes to make-up the
eyes
play the most impor…
Learn more!
Eyes Eyes by Misslyn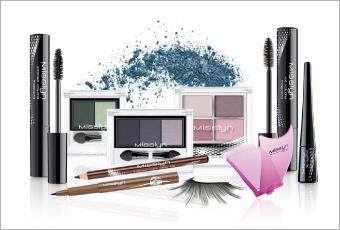 Whether subtle, striking or colourful – when it comes to make-up the eyes play the most important role for nearly all women. Cosmetics from eye shadows to mascara form the basis for an attractive appearance. With the emerging and aspiring brand Misslyn you have the opportunity of discovering the whole range of make-up for your eyes in a new way and get them at an attractive order price. In multifaceted colours and with diverse articles Misslyn takes the eyes of all women and offers them modern cosmetics in many trendy colours.
Create a special eye look with Misslyn
In order to put multiple colours on eyelids and the eye area and always choose the right combination, coordinated products in many colour tones are waiting in Misslyn's large selection of make-up. They fit in every handbag as well as eye liner, mascara etc. and helps you to spontaneously give your eyes additional charm and make them more attractive using high-quality cosmetics. If you also want to choose nail polish or lipstick from the trend brand, you are in the right place in the large product selection in our price-conscious shop!