Nail polish by Misslyn
The emerging cosmetics Misslyn is
the trend setter among the cosmetics companies
. No matter w…
Learn more
Nail polish Nails by Misslyn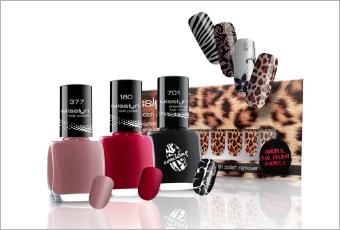 The emerging cosmetics Misslyn is the trend setter among the cosmetics companies. No matter whether make-up for your face or nails or hot accessories for highlights on your eyelashes and hands – with their bang up to date colour collections updated every six weeks the make-up creations are the perfect addition to fashionable looks. If you are looking for pioneering trends, you will always find them in the current collections.
Hot nail styles with the beauty products from Misslyn
Nail styling is the icing on the cake for an all round successful outfit. Then, what would your LBD look like without an elegant, red nail polish and a rock chick like without dark shades such as blue and black or an iridescent silver? Indeed the brand's range has been extended with hot make-up styles but it has not forgotten its core skills around nail and eyelash styling. Turn your nails into your new fashion accessory and discover the newest trends that will perfectly complement your fashionable look. The wide product range allows you to play with different looks. Whether seductive red accents, grunge inspired dark tones or hot nail stickers and nail designs. With Misslyn you can reinvent yourself every day!