La Collection Privée Women's fragrances by Molinard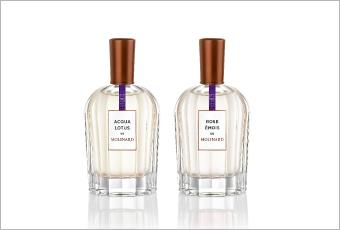 The La Collection Privée range from Molinard unites a total of five luxurious fragrances under one roof, all of them using quite different fragrance structures, opening up new worlds and quickly becoming a highlight in your bathroom, guaranteed. The women's fragrances possess outstanding quality across the board, though this is no surprise given the brand. As early as the 19th century, the brand, or its name, stood for a particularly elegant manufacturer in the world of fragrances, which was proven impressively by dozens of creations. Meanwhile, five generations of the Molinard family have worked under the same roof, giving each perfume their own signature - and at the same time always representing a spiritual development. With the La Collection Privée range, you get an intimate glimpse into the new women's fragrances from the traditional company.
From aquatic to natural, all the way to gentle
Each perfume from the La Collection Privée range by Molinard uses its own theme. This means that this range contains, for example, aquatic creations that are reminiscent of a day by the sea, making you long for a holiday, but also fragrances which are inspired by the delicate effect of the rose. These exude a fantastic feeling of suppleness, perfection and sensitivity on feminine skin. The range and its women's fragrances is a particular highlight from the land of perfume. Each Eau de Parfum Spray also uses a fruitful 90ml flaçon that guarantees that you will enjoy fun with your new favourite perfume for a long time even with daily use - the name alone guarantees this!
La Collection Privée by Molinard