Les Élixirs Skin care by Payot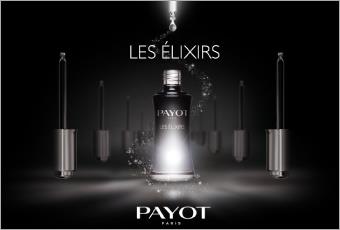 The Les Élixirs Care and Cosmetic Line from the Laboratoires Payot allow women to experience an extraordinary care experience with formulas composed of natural medicinal plants. With specifically developed anti-ageing formulas, the individual elixirs in the care line protect against premature skin ageing, protect against harmful environmental influences, regulate the skin's own oil production and lend it new lustre and a radiant complexion. The highly concentrated active agents of the elixirs were designed in such a way as to allow them to be applied to the existing skin type.
Highly concentrated elixirs for magical skin moments
For daily skin and facial care women can choose between Élixir Jeunesse, Élixir D'Eau, Élixir Douceur and Élixir Pureté, depending on skin type. When used regularly, just a few drops of the magical elixirs, containing active agents of the medicinal plants immortelle, oats, water lily and thyme, are enough to decisively improve the skin. The facial skin is protected, repaired and moisturised by zinc, manganese, biosaccharides and two hyaluron acids of differing molecular weight. The elixirs in the Les Élixirs Cosmetic Line from the Laboratoires Payot can be individually chosen according to personal skin problem and are suitable for daily use.
Les Élixirs by Payot