Blenheim Bouquet Men's fragrances by Penhaligon's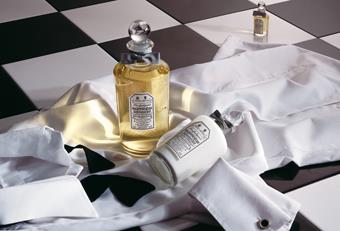 Since its foundation in 1870, Penhaligon's from London has become one of the most well-known perfume houses on the British isles, which is also highly renowned in Germany for the creation of women's and men's fragrances. With Blenheim Bouquet, we offer an absolute classic from the brand in our online shop, which was the favourite fragrance of Winston Churchill. Like many men's fragrances by the manufacturer, it captures fresh and warm essences, which accompany all men as an every-day perfume and which are perfect for elegant events as well as everyday use.
Blenheim Bouquet - a traditional fragrance by Penhaligon's
The perfume was named after the residence of the Duke of Marlbourough, for whom the fragrance was exclusively designed in the early days of the London perfume house. For a long time, the exciting and masculine scent note has been available to all men around the globe. They can experience this and other men's fragrances of the brand as an eau de parfum, an after shave and in other variants. Our online shop offers other product lines from the British brand, which want to whisk you away on a journey to discover one of the most well-known perfume brands of our time.