Trade Routes Unisex fragrances by Penhaligon's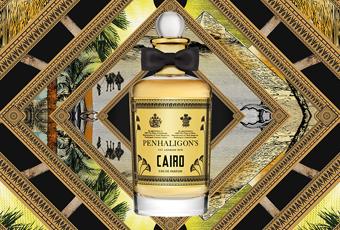 The Penhaligon's Trade Routes fragrance series is a new edition from September 2014, which combines luxurious ingredients with the fragrances from the London Dock from the 19th century. The British fragrance house uses these unisex fragrances in order to cover both women and men with a timeless scent aura, which communicates a lot of tradition and history with its exciting structure. The collection consists of three different fragrances: Empressa (for women), Lothair and Levantium. The Levantium has been made by the talented hands of the perfumes Christian de Provenzano and uses prominent notes of bergamot, which is crossed with absinthe in an exciting way. Jasmine, myrrh and cardamom stand out just as much as nuances of ylang-ylang and peach, which is why the Trade Routes perfume becomes a diverse adventure, which is reminiscent of the multi-faceted spice and vegetable markets of old London.
Exciting unisex fragrances by Penhaligon's
The Trade Routes Lothair perfume by Penhaligon's springs from a concept by the perfumer Bertrand Duchaufour, who makes use of many different fruits in order to create a friendly and open spring and summer fragrance. Several woody scent chords and the sweet structure of vanilla finally round off this creation and pave the way for a third creation in league with the new fragrances, which carry the name Empressa and which have been created specially for the woman. Just like Empressa, both unisex fragrances Levantium and Lothair use an exciting flacon with a fancy bow and a very artfully formed glass. The combination between tradition, classicism and modernity turns unisex creations such as Lothair and Levantium into an unforgettable experience.