Artemisia Women's fragrances by Penhaligon's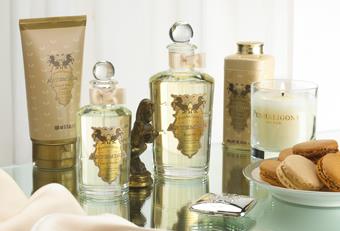 For over 150 years, the traditional London brand Penhaligon's has been offering its exciting men's and women's fragrances, which it has managed to do a century ago to the British royal family. With the Artemisia edition, the perfume house is creating an exciting fragrance in an exciting way, and offers the right perfume with a sweet and powdery scent to lovers. Alongside the classic eau de parfum spray, Artemisia is offered in other care products such as a sensual shower gel, which can be used daily and which provides a new freshness.
Perfume by Penhaligon's - enjoy British tradition
The British brand captures the mythological goddess of the moon with the name of the product line, whose children sparkle as stars in the night sky every night. With the exquisite women's fragrances of the brand, you can also turn the night into day and cover yourself with an exciting fragrance composition, which is suitable for all occasions, from a gala reception to a wild night of dancing. Our assortment relies on many other women's and men's fragrances from the traditional establishment, which we offer you online in all product variations and at reasonable prices!