Malabah Women's fragrances by Penhaligon's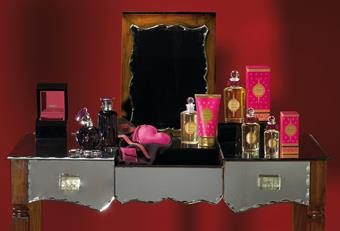 Malabah by Penhaligon's is a fragrance line from the year 2003, which can be seen as the embodiment for British elegance of the highest standard. The perfume is just as impressive stylistically as its fragrance. The flacon is consciously kept in subtle beige and yellow tones, which are supplemented with subdued wine red and brown accents. As is often the case for Penhaligon's, the lid comes in a round and soft form. Additionally, the lid is decorated with a small, playful bow.
Women's fragrances by the hand of a British master
The majestic Malabah fragrance is a journey through the orient, through spice markets and other worlds and cultures. The top note combines Earl Grey tea with coriander and fresh lemon. The women's fragrances from the line go down the spice route in the heart by combining rose, iris, cardamom and especially ginger and muscatel nut. As is often the case with spicy fragrances, the base note is kept very warm and natural. Here, the fragrance masters from the brand combine sandalwood with musk and ambergris.