Rose de Taif by Perris Monte Carlo
Perris Monte Carlo has had a global reputation for years thanks to its elegant fragrances. The compa…
Learn more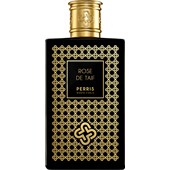 Perris Monte CarloRose de Taif Eau de Parfum Spray
BP: €189.90* / 100 ml
Rose de Taif Unisex fragrances by Perris Monte Carlo
Perris Monte Carlo has had a global reputation for years thanks to its elegant fragrances. The company is popular with men and women alike thanks to it being a specialist in unisex fragrances. All fragrance creations by the trend brand from the Mediterranean have the focus on their top note and help you to present yourself luxuriously and elegantly at special occasions. A floral character is in the foreground of Rose de Taif, which envelops wearers of the perfume in a subtle rose scent and combines this with further essences. From this a unique and exquisite perfume is created that will even delight fans of fresh and spicy fragrances.
Experience an exceptional, floral perfume with Rose de Taif
The preferences for unisex fragrances have changed over the past few years, a new generation of fans of exciting fragrances brings their own ideas for fragrance compositions with them. If sweet or floral fragrances were the domain of women's fragrances for a long time, there is now more and more men who like to wear this particular fragrance character. Perris Monte Carlo is listening to this preference with Rose de Taif and uses all the essences in a subtle form. Complemented by other undertones, many fans of exciting fragrances can identify with Rose de Taif and wear it to numerous occasions.
Experience the variety of Perris Monte Carlo at a great price
That Rose de Taif should also appeal to men too is made clear by the elegant and dark design of the flaçon, which is differentiated from the classic gold design of Perris Monte Carlo. The sophisticated character of the trend perfume can of course also be experienced through other unisex fragrances that the Mediterranean company has to offer and will not just appeal to young perfume fans. Our Online Shop gives you a complete overview of the fragrances by the manufacturer and lets you get them at a good price. In addition we also have care items from Perris Monte Carlo and other trend brands, complemented by popular cosmetics and care instruments for an aesthetic look!