To Be The Illusionist Men's fragrances by Police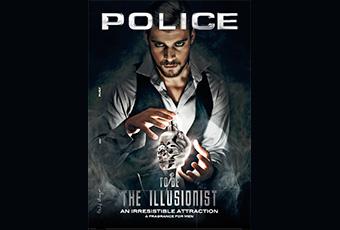 Fruity, fresh men's fragrances invigorate for the day ahead. To Be The Illusionist by Police is just such a perfume. The fragrance first made an appearance in the Police To be range in 2012 and contributes a seductively freshness and sensual woody note to the perfume line. As is typical for the men's fragrances by Police, the perfume is presented in a rock style and comes in a characteristic skull-shaped bottle. It is simple and transparent – a first hint at the uncomplicated fragrance that still brings a hint of magic with it.
A men's fragrance with a hint of magic
The men's fragrances from To Be The Illusionist appeal to men who appreciate a little mystery. A certain enigma wafts through the perfume but at the same time the scent impresses with its fresh, modern notes. The fragrance from the Italian fashion label Police presents itself as a little eccentric and definitely self-confident. The aromas of bergamot, ivy leaf and orange enchant in the top note, complemented by maritime notes. The middle note comprises a sensual composition of iris, white cedarwood and sage blossom. Woody notes of musk, crystalline moss and cashmere wood form the base note. The fragrance is ideal for daytime but will also pamper the senses in the evening, as an eau de toilette or as scented skincare products.