Versilia Aurum by Profumi del Forte
Profumi del Forte comes from the Torre of Tuscany label and characterise the most celebrated Italian…
Learn more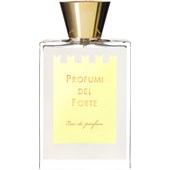 Profumi del ForteVersilia Aurum Eau de Parfum Spray
BP: €199.93* / 100 ml
Versilia Aurum Women's fragrances by Profumi del Forte
Profumi del Forte comes from the Torre of Tuscany label and characterise the most celebrated Italian coastal region with the world-famous lido at Forte del Marmi. It was here that Michelangelo found his marble, here mighty pines, hundred of years old, stand guard over magnificent villas, and here time passes differently somehow. Boats sail over the Tyrrhenian Sea, encourage daydreams and transport you with all cosiness to another world. Inspired by all of this,Torre of Tuscany created incomparable fragrances such as Versilia Aurum. It should evoke the spirit of gold, says the chief perfumer proudly, without being pretentious or arrogant. He has successfully managed this balancing act as the perfume proves, with a mix of sweet and warm, fruity and floral.
Fragrances like Versilia Aurum have style and taste
Right from the beginning, a basket of fruit opens up. With fresh oranges, sweet strawberry and aromatic plums. These are followed by floral notes of ylang ylang, orchid, jasmine, rose, lily-of-the-valley, iris and tuberose. Soft, round and long-lasting, the base presents itself with chords of balsamic notes ambergris, sandalwood, vanilla, white musk and tonka bean. The perfume really is just like gold. It shines and works to best effect when worn sparingly. Gold is best worn this way too, with just a few accents. The goal was to create dream-like fragrances and this has been achieved. Versilia Aurum from the Profumi del Forte range is perfect for all those women who like sweet and subtle fragrances.