Volume Styling by Redken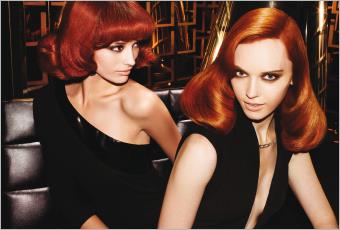 With the Hair Cosmetic Series, Redken adds volume to your styling. Design your very own individual looks, specifically create long-lasting hold at the hairline or optimal fullness for all your hair. The product numbering allows you to see which control level you will achieve at first glance: 01 to 05 stands for mild, 06 to 15 for medium and 16 to 26 for maximum control.
Redken adds volume to trendy looks
The feather-light "Full Effect 04" Mousse gives your hair unbelievable fullness over its entire length and protects it against harmful environmental influences. The specialist for blow-dried styles, the "Thickening Lotion 06" strengthens the substance of every single hair fibre and lends your look fullness, strength and shine. "Layer Lift 07" gives layered styles fullness, hold and movement for glamorous appearances. The Redken "Aerate 08" Cream Mousse gives your hair silky suppleness, strength, fullness and texture. You'll achieve supple volume at the hairline with the "Rootful 06 Gel Spray", and powerful hold with "Guts 10". The foam spray adds glamour to your styling and protects your hair against harmful UV rays.