I Love My Man by Roos & Roos
Women's fragrances from the
Dear Rose
brand have taken women by storm across the globe. With…
Learn more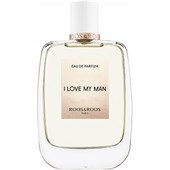 Roos & RoosI Love My Man Eau de Parfum Spray
BP: €105.00* / 100 ml
I Love My Man Women's fragrances by Roos & Roos
Women's fragrances from the Dear Rose brand have taken women by storm across the globe. With the fragrance line I Love My Man an exceptional product repertoire was created that leaves nothing to be desired. Regardless whether the product is perfume or not: all products contain the essence of a rose. And a rose is the flower associated with love. The perfume fragrance is rounded off with ingredients of spices and sandalwood accords. Packaging and flaçons have an attractive design and thanks to the designs being minimalistic fit in any type of bathroom.
Stylish products for everyday use: Women's fragrances from Dear Rose
With I Love My Man a fragrance line was created that leaves other women's fragrances standing. The sensual aromas emphasise the feminine side of its lady wearer, thus imbuing her with a timeless presence. The elegance and sensuality of the perfume I Love My Man alludes to longing and makes the secret yearning for love in all its nuances palpable. Sometimes a fragrance is worth more than a thousand words: With this collection several products can be enjoyed that have gained worldwide popularity and which provide pure excitement. Love is hard to put into words - instead it is expressed in many other ways, gentle touches during walks for example or through a perfume gift. The remaining aromas such as tonka bean, patchouli, raspberry and cinnamon perfectly round off the masterful fragrance creation from Dear Rose. Hawthorn, geranium, coriander and pepper round the harmonious fragrance off and give it a cosmopolitan and facet-rich character. Regardless which product you pick: you are certain to be swept away by the fragrances in this product range!