Sympathy For The Sun by Roos & Roos
Sympathy For The Sun from Dear Rose is an ode to the eternal source of life: the sun. It gives ever…
Learn more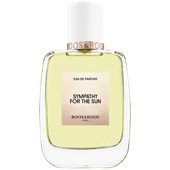 Roos & RoosSympathy For The SunEau de Parfum Spray
BP: €162.00* / 100 ml
Sympathy For The Sun Women's fragrances by Roos & Roos
Sympathy For The Sun from Dear Rose is an ode to the eternal source of life: the sun. It gives every living thing on earth warmth, light and life, and on top of this it also feels heavenly on one's skin in spring and summer. Perfumer Fabrice Pellegrin tried to capture the sun's unique magic in this perfume, which she managed splendidly to the delight of countless women around the world. Sympathy For The Sun is an exciting and friendly fragrance that is a clever supplement to the already existing women's fragrance range from this perfume brand, and especially in the summer becomes an indispensable companion.
An ode to the eternal power of the sun
The perfume from Dear Rose comes in an elegant curvy flaçon totally barren of any edges. The colouring of the bottle is, in line with the perfume's name, using yellow tones which are cleverly contrasted with a black bottle top. A simply superb match in terms of colour is the label imprint on the front bearing the brand name 'Dear Rose' and the name of the fragrance line. This perfume creation is perfect for all women who like their fragrances to be friendly, zesty and very open. The delicate bouquet is sure to make you happy!
Facet-rich selection of ingredients
Sympathy For The Sun from Dear Rose makes an entry with a fresh and zesty duo: lemon and bergamot. Straight after the perfume enters its heart note, where heliotrope is coupled with peony and jasmine. So that these women's scents stand out with intensity, the triumvirate is staged together with a range of different salty notes. The base note finally finishes with an accord made up of three different ingredients. Natural oak moss is combined with benzoin and sweet vanilla. This makes for a smart ending to the ode to the sun - at least until the next beautiful spray hits skin and nose.