Shaving care by Royal Shaving
With the shaving products from men's brand Royal Shaving, shaving and facial care will become a dail…
Learn more
Shaving care Men's skin care by Royal Shaving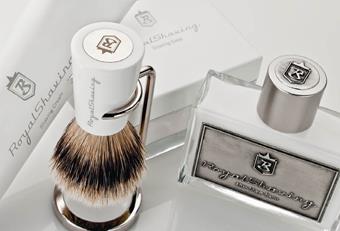 With the shaving products from men's brand Royal Shaving, shaving and facial care will become a daily ritual. These high-quality pre- and post-shave male grooming products complement each other perfectly and their precious ingredients leave facial skin feeling optimally groomed. The Royal Shaving cosmetics range is also suitable for men with sensitive skin, as the shaving care products are made without alcohol.
Daily royal grooming and shaving with innovative shaving care products
The cosmetics line, designed for the modern man of today, includes the entire range of care products for before and after shaving. Among others, it includes moisturising lotions, soothing balms and refreshing aftershaves. The men's care series is also offered in high-quality gift sets, which include many different cosmetics for daily care. The men's care series from the house of Royal Shaving is perfect for men of any age and can also be used daily on even delicate, sensitive skin.