Customers also bought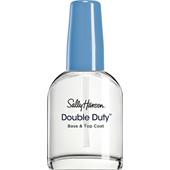 Sally HansenTop Coat Double Duty Base & Top Coat
BP: €375.19* / 1000 ml
Description by Miracle Gel Miracle Gel Nail Lacquer by Sally Hansen
Product sub-line: Make-up
Range: Miracle Gel
Description: Miracle Gel Nail Lacquer
Consistency: gel polish
Product type: bottle

Area of application: nails
Effect: glossy
Opacity: strong
Finish: covering

Give your nails a trendy gel finish and intense shine with the Miracle Gel Nail Lacquer by Sally Hansen. To enjoy the brilliant colour and ultra-long wear of this nail lacquer to the full, it should be used in combination with the Top Coat from the Miracle Gel range.
Ultra-long lasting with a shiny gel finish
The Miracle Gel Nail Lacquer by Sally Hansen gives you an ultra-shiny manicure that is salon-worthy. The combination of gel and nail lacquer ensure an exceptionally brilliant intensity of colour and an ultra-long wear of up to 15 days. The Miracle Gel Nail Lacquer also impresses with its simple and quick application: It is applied in two coats and is then sealed with the Miracle Gel Top Coat. It is only after sealing with the Top Coat that the extremely long-lasting wear and brilliant gel finish can be ensured. In addition, the colour and top coat can be used without a UV light. The nail lacquer is available in a variety of on-trend colours.
Questions about the product?