Signorina Eleganza by Salvatore Ferragamo
Women's fragrances such as
Signorina Eleganza
by Salvatore Ferragamo have achieved worldwide …
Learn more!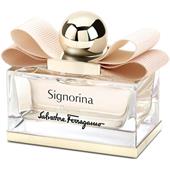 Signorina Eleganza Women's fragrances by Salvatore Ferragamo
Women's fragrances such as Signorina Eleganza by Salvatore Ferragamo have achieved worldwide acclaim. The perfume fragrance is included in each of our products: Whether eau de parfum spray, shower gel, body lotion or powder. The well-known and popular fragrance nuances settle on the body like an invisible veil and lend it a pleasant and alluring aura all day long.
Diverse assortment with high-quality character
Women's fragrances like Signorina Eleganza by Salvatore Ferragamo are enchanting due to their carefree aromas. Whether shower gel, body lotion or perfume: The breathtaking aromas unfurl just a few seconds after opening the package. The fragrance is charming and feminine. Essences of white leather, enticing almond powder and radiant osmanthus create a unique composition. Grapefruit, pear and patchouli lend the fragrance an unmistakable character. The products in this line are suitable for all young women facing life self-confidently and wanting to exude an alluring aura.