Hair care by Swiss Haircare
The highly effective
hair care and styling products
from the Swiss Haircare Institute are the…
Learn more
Hair care Skin care by Swiss Haircare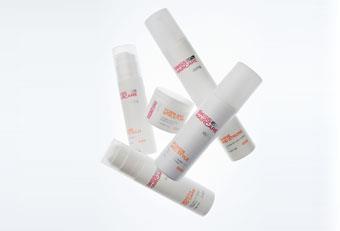 The highly effective hair care and styling products from the Swiss Haircare Institute are the result of scientific research by recognised dermatologists and the know-how of internationally experienced hairdressers and stylists. Cosmetic products for the various hair types and requirements of women and men, which are suitable for daily hair cleansing, care and repair, are developed according to strict guidelines in the Swiss institute's laboratories. When developing the unique formulas, the laboratory's research especially concentrates on skin tolerability and the needs and care requirements of individual hair structures.
Volume and shine for permed and coloured hair
The various hairsprays, gels, waxes and conditioners in the high-quality hair care series are ideal for normal, permed and coloured hair. When the cosmetic products are used regularly and in combination with each other, the hair becomes soft and shiny, as well as receiving wonderful volume and a radiant shine. Even damaged hair is gently repaired and nurtured by the elixirs and repair shampoos. The entire spectrum of the high-quality Swiss Haircare Institute Care Line is ideal for women and men with normal skin and normal hair structure.