Get Ready For Him by adidas
Sporty men's fragrances have been one of the Adidas trademarks for decades. The major German company…
Learn more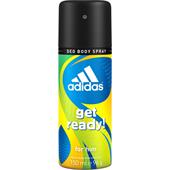 adidasGet Ready For Him Deodorant Body Spray
€2.79
/ 150 ml
BP: €18.60* / 1000 ml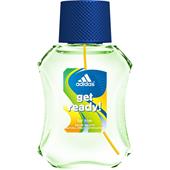 adidasGet Ready For Him Eau de Toilette Spray
€7.99
/ 50 ml
BP: €159.80* / 1000 ml
5/5 AggregateRating
Get Ready For Him Men's fragrances by adidas
Sporty men's fragrances have been one of the Adidas trademarks for decades. The major German company has long been carrying more than sport shoes and other sport items and has for years been setting numerous trends with perfume and care products for women and men. The Get Ready For Him Edition allows men of all generations to enjoy a sporty, fresh perfume with a striking fragrance, which not only cloaks the body in a special note and becomes a real refreshment after training or competition.
Experience Adidas perfume in various forms
As with all Adidas fragrance editions, Get Ready For Him trusts in a large selection of items, which can be purchased individually or in the form of attractively designed gift sets. For instance, this allows the men's fragrances of the sport brand to be experienced as shower gel under the shower, whereas the fragrance should be applied in the form of aftershave or body spray for everyday life and in leisure-time. Get Ready For Him and other men's fragrances of the same brand can be perfectly combined with each other, thus enabling the perfect fragrance to be enjoyed everywhere. Inexpensive bargains are assured you via our multifaceted online shop.