Fizzy Energy by adidas
With
Fizzy Energy
, Adidas is adding a top-quality product range to its sophisticated women's …
Learn more
5/5 AggregateRating
Fizzy Energy Women's fragrances by adidas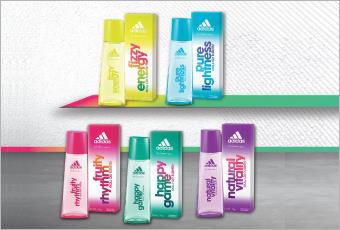 With Fizzy Energy, Adidas is adding a top-quality product range to its sophisticated women's fragrances, which women with an athletic and young way of life know how to appreciate. Offered as one of five tangy product variants, Adidas supports daily hygiene in an unusual way and ensures wellbeing and a good start to the day with the same varied fragrances as in a real perfume. Fizzy Energy perceptibly vitalises the body as body spray or eau de toilette and combines brand awareness with an inexpensive price.
Discover Adidas women's fragrances as a sporty alternative
Numerous young women look out for a sporty and active note, combined with a sophisticated brand awareness, when selecting perfume and care products. Fizzy Energy and other variants of the brand from Herzogenaurach are a perfect choice in this respect, with the women's fragrances and care products also being available a gifts sets in our assortment. Even if you prefer other sport brands or perfume houses around the globe, you'll quickly find something here and can snap things up on the Internet at inexpensive prices according to the traditional shopping basket principle.