Fun Sensation by adidas
The German brand Adidas is not just known as a manufacturer of sport items, instead the company in H…
Learn more
5/5 AggregateRating
Fun Sensation Women's fragrances by adidas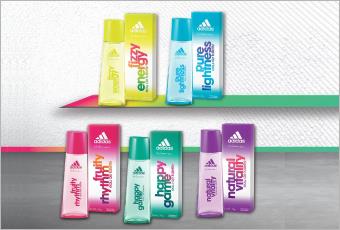 The German brand Adidas is not just known as a manufacturer of sport items, instead the company in Herzogenaurach has now been offering men's and women's fragrances for a well-groomed appearance after sport for decades. Adidas Fun Sensation is a young and colourful collection for women who prefer a fresh and sporty fragrance as their perfume. Offered in five versions and labelled in different colours, different essences dominate the Fun Sensation women's fragrances, with the right fragrance for every taste being held at the ready.
Sporty and well-groomed en route with Adidas fragrances
As with other product lines of the manufacturer, the Fun Sensation fragrance collection includes various products ranging from eau de parfum to deodorant body spray. The men's and women's fragrances of this and many other collections can be purchased individually or in sets in our online shop, to treat your sporty friends or your partner to quality products of the German brand. Our shop does of course also trust in perfume, cosmetics and care products of many other world brands, which you can discover and order in our online shop according to the well-known shopping basket principle!