Fleurs de Gardenia by Creed
The
Fleurs de Gardenia
fragrance was created by Creed. The women's fragrances from Creed are …
Learn more
4/5 AggregateRating
Fleurs de Gardenia Women's fragrances by Creed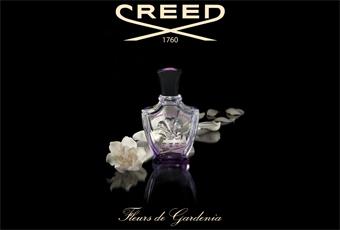 The Fleurs de Gardenia fragrance was created by Creed. The women's fragrances from Creed are characterised by their long-lasting notes and bewitching aromas. Fleurs de Gardenia sees the creation of a perfume which brings to mind a garden bursting with Gardenias. From the first spritz you can sense an unprecedented romance, shaped by elegant aromas.
Romantic women's fragrances with lots of charm
For those who have yet to smell Creed's women's fragrances, the masterful aromas can be difficult to imagine. Fleur de Gardenia is a scent created with immense freshness and floral highlights. The fragrance is based on galbanum, cassis and sensual rose. Lily, peony, jasmine and gardenia give the scent a floral character. These are continually interfused by cedar wood, patchouli and musk: The herbal aromas make for a varied effect, creating for a fragrance that's never dull.