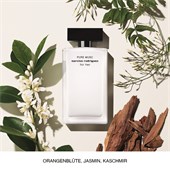 Narciso Rodriguezfor herPure MuscEau de Parfum Spray
€66.95
/ 50 ml
BP: €1,339.00* / 1 l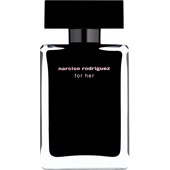 Narciso Rodriguezfor her Eau de Toilette Spray
BP: €1,479.00* / 1 l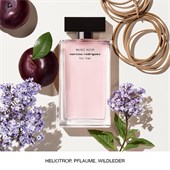 Narciso Rodriguezfor herMusc NoirEau de Parfum Spray
BP: €1,699.00* / 1 l
Narciso Rodriguez perfume
Narciso Rodriguez perfume – inimitable fragrances for every taste
Narciso Rodriguez perfume not only represents joie de vivre and flair, but also oozes style and sensuality. Each fragrance is a true symphony to the world of scent. The fashion designer with Cuban roots has a penchant for classic essences used in a new and, above all, modern way. The result is incomparable fragrance creations that are clearly different from perfumes by other manufacturers
Explore an entirely new range of fragrances with Narciso Rodriguez
Every Narciso perfume is inspired by nature. To achieve this, he makes use of the full range of fragrances, dares to experiment and comes up with fabulous aroma compositions. Beside light fragrances that promise clear lines, he also offers more intense perfumes. In doing so, Narciso Rodriguez continues to create new scents that never cease to amaze.
Narciso Rodriguez women's fragrances: Each bottle oozes exclusivity. But it is the contents that beguile. Narciso employs a large number of tried-and-true, well-known ingredients. Blended with exceptional essences, the result is fabulous fragrance highlights. Musk meets Bulgarian roses or white jasmine for a floral fragrance experience. For a more distinctive note, Narciso uses tonka bean, cedarwood or vetiver to create a distinctive, unparalleled scent.
Narciso Rodriguez men's fragrances: Narciso Rodriguez fragrances for men are sensual and masculine. Again, he likes to use musk, adding red berries or floral nuances to amber. The results are interesting blends that still have a masculine edge to them. The fragrances not only radiate masculinity, but are refreshing, aromatic and bold.
Not only is each Narciso Rodriguez perfume something truly special, It also lasts a long time, indicating the highest quality. Although the designer's bottles are frequently simple and understated, the scents are always present and offer moments of genuine pleasure.
Immerse yourself in the unique universe of Narciso Rodriguez perfume
Every product that comes from the atelier of this gifted artist is full of fire and intrigue. However, Narciso Rodriguez doesn't just try to capture Latin America's passion in his perfumes and skincare products. He also uses the diversity of the Orient or essences from the tropics to create innovative, contemporary perfumes.Only the highest quality and most select ingredients are used in each fragrance and body care product to create intoxicating scented sensations. Although the packaging appears very simple at first glance, it immediately draws the eye. This is due to the consistency of the muted colours as well as the linear shapes, both of which exude an absolute sense of prestige.
The products are not ostentatious, but they are very stylish and catch the attention of customers right away. A sophisticated choice of colours and eye-catching fonts cause quite a stir. The overall composition inspires and piques the interest of both men and women.
Discover Narciso Rodriguez perfume online – at parfumdreams
In delectably elegant bottles, a hint of musk awaits, along with powdery, exotic, or spicy accents. Browse the extraordinary fragrances online at parfumdreams and buy your Narciso Rodriguez perfume.Discover a different side of classic and new fragrances – for an olfactory journey to remember.