Car air fresheners
5 Item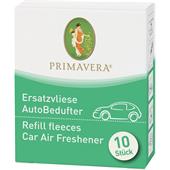 PrimaveraAccessories Refill Fleeces for Car Air Freshener
BP: €0.57* / 1 pcs.
5/5 AggregateRating
Buy car air fresheners online – for refreshing scents on the go
Car air fresheners ensure a pleasant atmosphere even in the smallest of vehicles. Because outside of their own four walls, many people see their car as a second home. Whether for business or leisure use: We're spending more and more time on the go in our cars. That means a fresh fragrance is an essential for our everyday outings. On top of that, car air fresheners neutralise unpleasant odours and ensure a long-lasting fragrance.
Car perfumes for every taste
One way to make car journeys fun is with a car air freshener – it will transform the air in your vehicle with its beautiful scent. What's more, car air fresheners don't simply mask unpleasant odours: a car perfume neutralises other smells reliably with long-lasting effects. There are many different car scents to discover at parfumdreams :
Car perfumes in cartridge form: car perfumes used as a cartridge are easy to mount on your vehicle's air vents. The desired fragrance note is dispersed from there into the interior of your car. This offers a practical solution as you can adjust the intensity of the fragrance yourself.
Hanging car air fresheners: the classic air freshener trees are simply attached to the rear-view mirror of the car. The thread for hanging up the car air freshener is often included in the delivery.
Generally, the fragrance of car air fresheners lasts for four weeks.
Discover car air fresheners with different fragrance notes
For a fresh fragrance as well as an effective way to eliminate unpleasant odours from your vehicle, car air fresheners are available with countless fragrance options for you to choose from:
Car fresheners to improve your concentration: citrus car perfumes are great for sharpening up your concentration while driving. These include, for example, lemon, orange, grapefruit and lemongrass.
Feel-good car perfumes: particularly in winter, we can often feel cold and uncomfortable in the car. Car air fresheners with vanilla, sandalwood or Christmassy fragrance notes will give you a taste of home behind the wheel.
Car fragrances with a kick of freshness: floral nuances will transform you car into a sea of fresh flowers. Fragrances such as jasmine and rose work wonderfully for this.
Scents such as lavender have a calming, relaxing effect and can even make you feel sleepy in some circumstances, meaning car perfumes with this type of fragrance are categorically not recommended.
Buy car air fresheners at great prices online – discover our luxurious range at parfumdreams
Air fresheners are so easy to use in the car, spreading a fragrant, feel-good atmosphere throughout your vehicle within seconds. Whether you're off on your travels or your everyday commute – create your own personal fragrance moment in your car. Choose your favourite scent from our wide selection of car perfumes and order directly online.