La vie est belle by Lancôme
The French label Lancôme was founded in 1935 and has grown into one of the largest and most recognis…
Learn more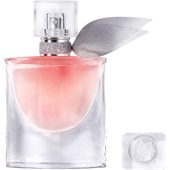 LancômeLa vie est belle Eau de Parfum Spray refillable
€41.95
/ 30 ml
BP: €1,398.33* / 1000 ml
LancômeLa vie est belle Eau de Parfum Spray Intensément
€66.95
/ 50 ml
BP: €1,339.00* / 1000 ml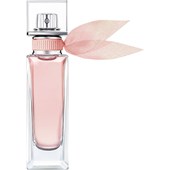 LancômeLa vie est belleSoleil CristalEau de Parfum Spray
€57.95
/ 50 ml
BP: €1,159.00* / 1000 ml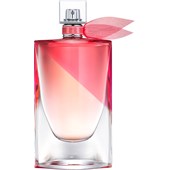 LancômeLa vie est belleEn RoseEau de Toilette Spray
€94.95
/ 100 ml
BP: €949.50* / 1000 ml
4,5/5 AggregateRating
La vie est belle Women's fragrances by Lancôme
The French label Lancôme was founded in 1935 and has grown into one of the largest and most recognisable providers of perfume, cosmetics and care products in Europe. With La Vie est Belle, Lancôme offer another product range in its selection of exquisite women's fragrances which perfectly captures the typical French joie de vivre. Open, free and aesthetic is how every customer of this quality brand should feel when wearing this perfume and thereby making their life a breath of beauty and pleasantness.
La Vie est Belle - impressive perfume with striking design
What's striking about this fragrance from Lancôme is not only the light and typically feminine essences but also the aesthetically shaped flaçon with a playful note. The excellent design might also invite you to complement your existing fragrances with La Vie est Belle, thereby adding a real ornament to your bathroom. The same goes for other fragrances and flaçons from the traditional Parisian company, of course, which offers the right product for all men's and women's preferences. Men's and women's fragrances are waiting for you online at attractive prices!
La Vie Est Belle
Lancôme, Europe's iconic perfume, cosmetics and skin care label, was founded in France in 1935. Its fragrances capture that joie de vivre, that quintessentially French aesthetic of joy and openness. Since 2014, Lancôme's signature La Vie Est Belle Perfume has also captured the attention of women throughout France, as its top selling scent, bringing a sense of effortless beauty to daily routines. Parfumdreams is poised to offer you La Vie Est Belle in our online fragrance boutique.
La Vie Est Belle Perfume
La Vie Est Belle translates to "life is beautiful". Like no other fragrance, Lancôme's La Vie Est Belle brings life's beauty to the everyday, with levity and playfulness. The scent is light enough to be paired with others, complementing your moods. La Vie Est Belle fragrance introduces iris gourmand and patchouli for a complex mix of elegance and depth. Beyond the fragrance, La Vie Est Belle's flaçons reveal a visual aesthetic, bringing the same feeling of elegant playfulness to your bathroom cabinet. Find the full range of La Vie Est Belle's fragrances here at Parfumdreams in addition to body lotions, shower gels and Eau de Toilettes. La Vie Est Belle en Rose brings a fruity floral scent to the classic. La vie en rose is the French answer to "life is better through rose tinted glasses." Pick up some rose tinted glasses through this fragrance found at Parfumdreams and live la vie en rose.