Adrenaline Men's fragrances by Enrique Iglesias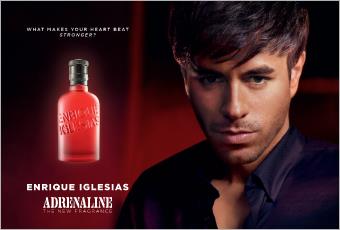 The Adrenaline Fragrance Series by Enrique Iglesias is resplendent in a powerful red and combines several care and fragrance products under one roof. The very pleasant men's fragrances are by no means only suitable for the singer's fans, instead they can also be used by men who prefer very fresh and masculine fragrances. The Adrenaline Series is designed around the perfume of the same name, which was a new release in 2014. It was created by perfumers Givaudan and Guillaume Flavigny in collaboration with Enrique Iglesias and comes in a beautiful red flacon with silver stopper. It is available in 30 ml or 50 ml versions.
Rhythmic men's fragrances with lots of power
The Adrenaline Perfume uses a combination of various fresh, fruity and floral ingredients in its top note. The trio of lemon, violet and mandarin thus ensures a successful overture, which then transcends into the heart note without the slightest effort. The latter is composed of black pepper, safran and pomarose, making it very masculine, somewhat more bitter and a touch more spicy than classic men's fragrances as well. The base note of the Enrique Iglesias Perfume is rounded off by leather and cedar wood. The duo is set in a savoury frame of roasted tonka beans. The result is a masculine and powerful fragrance that plays out its strengths to the full, especially in the evening.
More nurturing and fragrant ancillary products
The men's fragrances in the Adrenaline Fragrance Series are also taken up by Enrique Iglesias and his team in other products. The eau de toilette spray is complemented by a soothing aftershave lotion, which can be applied to the skin straight after shaving, but also by a deodorant body spray and a shampoo & shower gel. The latter gently removes perspiration and dirt from the hair and skin, whereas the deodorant ensures long-lasting freshness and confidence - even in stressful situations!
Adrenaline by Enrique Iglesias