Eau de Karma Women's fragrances by Thomas Sabo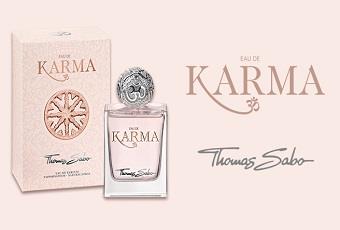 Good karma: The perfume Eau de Karma by Thomas Sabo takes East Asian teachings and spiritual symbolism and turns it into a fresh, flowery perfume. The eau de parfum appeals to women who prefer sensual fragrances that are not too heavy. The bottle presents itself in a playful, pink design, crowned by a silver ball with the happiness symbol Om. Another special touch: The bottle contains a rose quartz. This stone is said to represent love and to strengthen faith in your own abilities and desires.
A fragrance for good karma
The perfume inside is just as feminine as the bottle suggests. In 2015, Thomas Sabo launched this perfume, which is wonderfully suitable for summer but which can also exude its pleasant aromas in winter. Fragrances like Eau de Karma by Thomas Sabo impress with a finely tuned composition. At first, the aromas of freesia, blackcurrant and apple unfold – a fruity mix that builds an appetite for more. The middle note exudes notes of lotus blossom and peony. Amber, musk and cedarwood form the base note, giving the perfume an earthy, woody note and cutting the sweetness. Women who like sensual-fresh perfumes will love Eau de Karma.