Les Escales de Dior by DIOR
A journey through the fragrances of Italy. Dior invites us to visit the care-free world of Southern …
Learn more!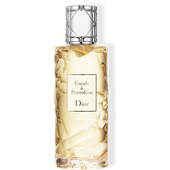 DIORLes Escales de DiorEscale PortofinoEau de Toilette Spray
BP: €89.27* / 100 ml
Les Escales de Dior Women's fragrances by DIOR
A journey through the fragrances of Italy. Dior invites us to visit the care-free world of Southern Europe. Portofino, a small fishing village on the Italian Riviera, was chosen as the first stop on this journey by Dior. The Perfumer-Creator François Demachy has reinterpreted the classic freshness of a Cologne for this fragrance.