Skin care and Fragrances of Goutal
Annick Goutal was born in 1945 as the third of eight children of a renowned Parisian confectioner an…
Learn more
Goutal Skin care and Fragrances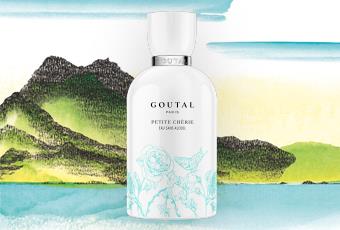 Annick Goutal was born in 1945 as the third of eight children of a renowned Parisian confectioner and pursued two extraordinary career paths, until she found her third, which became her profession as a perfumer. Annick Goutal's father envisaged a career as a pianist for her. Although she was talented and even received an award, she decided against this life path. She fled from her old life in Paris to London in order to work as an au pair there. She was discovered as a photo model there, but after a short time, she realised that this was not her true purpose. She returned to Paris, where she discovered her own talent as a perfumer. She became an apprentice at Robertet and she finished her training as a perfumer when she was in her mid-thirties. In 1981, Annick Goutal opened her first boutique in an old Parisian bookstore, and her very natural and artistic perfumes soon became well known. From 1985 onwards, Annick Goutal was working together with the Taittinger group, who was famous for its champagne. The group helped her with the international sale of her perfumes, especially in the United States, where the main revenue is generated. In 1999, Annick Goutal died from breast cancer aged 54. Nowadays, Camille Goutal, her daughter from her first marriage, and Isabelle Doyen are the perfumers and creative directors of the company, which they continue to lead in Annick Goutal's tradition. "Fragrances help us find the way through the labyrinth of our memories."
Did you know?
Annick Goutal was a perfumer who distributed her brand of the same name from Paris. She originally pursued a career as a pianist before devoting herself entirely to fragrance and, as an apprentice of Henri Sorsana, created her first perfume. She opened her first perfumery in 1980 in the district of Saint-Germain, from where she was able to continually expand her clientele. In 1999, Goutal died suddenly at the age of just 53. Since then, the company has been carried on by her daughter and the internationally renowned perfumer Isabelle Doyen.
Fascinating, memorable fragrances
The fragrance Annick Goutal Ninfeo Mio is just one of the numerous creations from the French perfume house. It is a creative combination of completely contrasting ingredients, which are blended together to form a harmonious whole. Annick Goutal Ninfeo Mio provides enough room for individual character and unforgettable style. The Eau de Toilette can be found in the premium segment and comes in an elegant, bourgeoise-like flaçon. The fragrance is perfect for unforgettable moments and gives its wearer's spirit a unique means of expression. The perfume is also available under the same name for men, and marks a milestone for Annick Goutal.
Other exciting creations
Annick Goutal Noel continues the success story and is interpreted in the form of a scented candle, for example. Fruity notes meet citric chords, which give this perfume, or fragrance, a character all of its own. Annick Goutal Noel and Ninfeo Mio are just a selection of the numerous creations created by Goutal, her daughter, and Doyen.