Sueño Mujer Women's fragrances by La Martina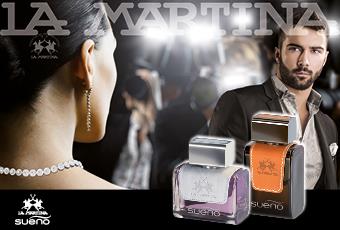 The origins of La Martina lie around 50kms from Buenos Aires. In an Estancia here, the aristocrats had fun and learned to play polo. La Martina is a large family business, which to this day is passionately involved in playing and following the sport of polo. La Martina stands for both the style of the polo player as well as the connection to the horse. These products have long been hot favourites, although the brand was a real insider tip of high society for a long while. In the meantime, La Martina has attracted the attention of a much wider audience.

La Martina presents worldwide a sporting luxury with an unmistakeable style. Tied to old traditions, elegant and perfected, it's all to be found in the fashions as well as in the fragrances. La Martina Sueño Mujer is a passionate and feminine fragrance. Both the bottle and the box present themselves sporty but stylish at the same time. The materials used in the bottle and packaging reflect passion, freedom, tradition and perfection. The bottle is wrapped in a band of leather.
Sueño Mujer by La Martina