La Prairie Kosmetik and Skin care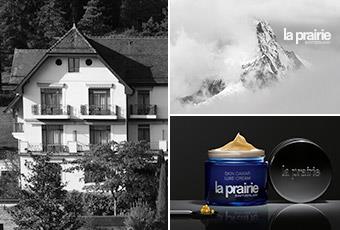 Did you know?
Patented care
In the search for timeless beauty, La Prairie developed unparalleled cosmetics. Equipped with the patent-pending La Prairie Ice Crystal Complex. This is made from extracts of three plants that manage to survive in the Swiss mountains, even under inhospitable conditions. The La Prairie Ice Crystal Complex is used, among other things, in La Prairie make-up and helps your skin achieve radiant beauty. As a pioneer in the field of anti-ageing, the company uses rare but highly-effective ingredients. La Prairie make-up was developed at the La Prairie clinic in Montreux. The revolutionary skin care formulas originate from nothing less than La Prairie itself.
High in the mountains, in a world of snow and ice, La Prairie discovered the plants that are experts in the art of survival, whose active agents are today used effectively in the La Prairie Crystal Complex. But did you know that these three plants alone and nothing else can survive in the life-threatening environment? They melt the snow to grow, wrap themselves in ice to protect themselves, and use the snow for cover. Unbelievable abilities that benefit your skin in the cosmetics range. The latest biotechnology enables the company's scientists to incorporate the DNA of the plants into the Swiss Ice Crystal Complex so that your skin can be effectively protected against the visible signs of
premature skin ageing
. Experience for yourself how La Prairie make-up rejuvenates your skin from the inside.