Fate Woman by Amouage
The Amouage women's fragrances are globally renowned for their refreshing aromas. With the
Fate W… Learn more!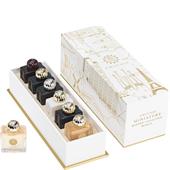 Fate Woman Women's fragrances by Amouage
The Amouage women's fragrances are globally renowned for their refreshing aromas. With the Fate Woman perfume, Amouage has again created a masterful fragrance composition distinguished by its refreshing and secretive aromas. An opulent floral bouquet forms the overture to the perfume, which is pleasing to the heart and ensures abundant freshness, warmth and well-being.
A mysterious fragrance with an interesting character
Fate Woman is a perfume dominated by oak moss, leather and incense. The aromatic triad is rounded of by pepper, cinnamon and chilli. Cinnamon, bergamot and rose give the fragrance that je ne sais quoi. Daffodil, vanilla and castoreum underscore the basic feminine tone of the perfume.