FlorAyer by Ayer
Florayer is a line from the tradition-steeped House of Ayer. It was founded 125 years ago by Harriet…
Learn more!
FlorAyer Skin care by Ayer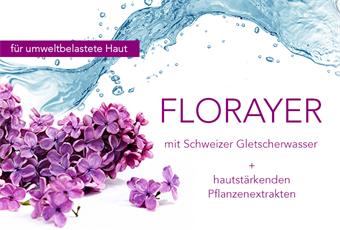 Traditional care and cosmetics
Florayer is a line from the tradition-steeped House of Ayer. It was founded 125 years ago by Harriet Hubbard Ayer who was way ahead of her time. She acquired a formula for a cream from a French chemist and, once the cream became a hit, developed an entire line based on that cream. The success was revolutionary and pioneering, which is why the Ayer company is one of the most successful and exclusive cosmetic houses in the world today. The Florayer Line attracts attention due to its natural ingredients. Glacier water, alpine plants, such as butterfly bush, edelweiss and thyme, which originate from sustained organic farming, as well as shea butter, avocado oil, witch hazel and horse chestnut define the line. Furthermore, the creams and fluids in the series are enriched by the natural vitamins A and E. Florayer marked the beginning of a cosmetic line that is perfect even for sensitive skin. From peeling fluid without exfoliate particles via day and night creams to hand and body creams, the line offers everything to nurture and pamper your skin, supply it with moisture and keep it healthy.