The Scent of Peace by Bond No. 9
If you've ever been lucky enough to enjoy the male fragrances by
Bond No. 9
you'll know all a…
Learn more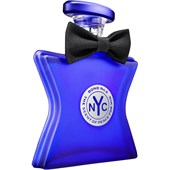 Bond No. 9The Scent of Peace Eau de Parfum Spray
BP: €280.00* / 100 ml
The Scent of Peace Men's fragrances by Bond No. 9
If you've ever been lucky enough to enjoy the male fragrances by Bond No. 9 you'll know all about their breathtaking aromas. The fragrance The Scent of Peace has distinctly masculine aromas that attest to the style and elegance of their wearer. This sensual fragrance unfolds its remarkably harmonious aromas in just a few seconds.
A treat for the senses
Bond No. 9 The Scent of Peace is a fragrance that can be worn whatever the occasion. The fragrance is based on citrus and floral essences, pervaded time and time again by coarse nuances. The Scent of Peace is primarily based on grapefruit, lily and musk. Black pepper and cedar wood combine to create a dominant base, designed to reflect the strength of man. Let yourself be inspired by a lively classic from this modern perfumery, which has captivated thousands across the globe!