Room fragrances by Goutal
The times of unsightly room fresheners, which smell both artificial and boring, are fortunately long…
Learn more!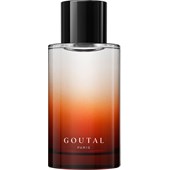 Room fragrances Room fragrances by Goutal
Room fragrances as sophisticated as a perfume presented to you
The times of unsightly room fresheners, which smell both artificial and boring, are fortunately long gone. More and more sophisticated perfumers and care product manufacturers are also dedicated to manufacturing sophisticated room fragrances. Annick Goutal is no exception. Treat yourself and your premises with the room sprays, scented candles and scent dispensers by Annick Goutal, which act just like a real perfume. They will captivate you with their head, heart and base note and refresh your senses.The room fragrances, which come in an elegant flask and fit with any ambiance, are especially popular. They distribute their fragrance via capillary rods in any way you wish. Inaudible, unnoticeable yet present, just like a good perfume should be. Annick Goutal presents you with sophisticated aromas, who are looking for their equal. They will bring harmony to your premises, and they can rightly be regarded as perfumes for your own home. Optimally, the room fragrances can be combined with each other naturally. In this way, the scented candles compliment the capillary scent dispensers and room spray. Experience it for yourself.