Cleansing by Herôme
Herôme
is a brand that attaches great importance to perfection and naturalness. Special produ…
Learn more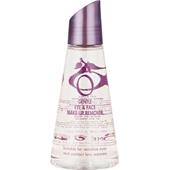 HerômeCleansing Gentle Eye Make-up Remover
€8.46
/ 120 ml
BP: €70.50* / 1000 ml
5/5 AggregateRating
Cleansing Eyes by Herôme
Herôme is a brand that attaches great importance to perfection and naturalness. Special products are required to cleanse and care for the eyes. The eyes are among the most delicate and sensitive areas of the body. Cleaning and care products must be extremely mild and gentle. It is possible to counteract the ageing process with a systematic approach to eye care. Facial expressions, blinking and laughing cause wrinkles to develop. The skin loses its natural elasticity, leading to the appearance of unsightly creases.
Care products that inspire
By relying on the range of skincare products from Herôme, you can benefit from tried-and-tested products. A feature of these products is the speed and effectiveness with which they work. The skin becomes soft and supple: the cream is fully absorbed in no time at all. If used regularly, the skincare products can slow down the formation of wrinkles. The increase in moisture leads to a healthy appearance.