Vetiver Root, Green Tea, Cedarwood by Korres
Korres Vetiver Root, Green Tea, Cedarwood is more than just on of the most popular fragrances of the…
Learn more!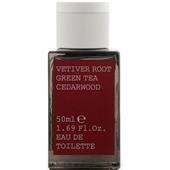 Vetiver Root, Green Tea, Cedarwood Men's fragrances by Korres
Korres Vetiver Root, Green Tea, Cedarwood is more than just on of the most popular fragrances of the Greek label's range. It is a whole line of products that include an aftershave balm and a shower gel that are carried by the perfume. They have been developed on the same basis as all products from Korres, namely on the principle of skin compatibility and sustainability. Pharmacist couple Mr and Mrs Korres have specialised since founding their cosmetics company in 1996 on products that have their roots in plant-based medicine. The philosophy extends to the popular men's fragrances. After all, every fragrance carries the memory of the homeland of the Korres family. In this case it is the root of the vetiver grass, which exudes the scent of fresh earth.
Allow yourself to be inspired by this modern men's fragrance
If you prefer heavy and very dominant fragrances, this perfume isn't the one for you. The scent is woody, slightly sweet and subtle. Bergamot, cardamom and tea form the top note whilst the middle note consists of lavender, cedarwood and vetiver. Then comes the finale of tonka bean, oak moss and amber. This scent is a markedly masculine perfume that is easy to wear and is always the perfect companion, whether at uni, work or at play. Korres has designed this fragrance for all men who have already achieved something in life, who know what they want and in which direction they're going. And that doesn't have to be a well-worn path. Ultimately, Korres sees its fragrances as a statement for the wearer.