Special Care by Marbert
With the ""Special Care"" Series, the tradition-steeped German Marbert brand is offering special car…
Learn more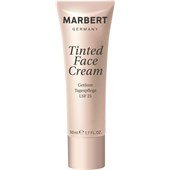 MarbertSpecial Care Tinted Face Cream SPF 25
€14.95
/ 50 ml
BP: €299.00* / 1000 ml
5/5 AggregateRating
Special Care Skin care by Marbert
With the ""Special Care"" Series, the tradition-steeped German Marbert brand is offering special care with various products specifically for the face. In addition to the usual skin care, the special care products in the Special Care Line by Marbert Cosmetic online ensure optimal moisturising and nourishment, firming, skin structure improvement, regeneration, vitality and an attractively radiant skin.
Products and effect of the Special Care Line by Marbert Kosmetik online:
* Super Booster - the intensive anti-ageing concentrateMoisturising is this Booster concentrate in the Special Care Series, an intensive anti-ageing care line, which is suitable for every skin type. The "PhytoCellTec" active agent complex, developed from apple stem cells, strengthens the skin's own natural repair mechanism. Wrinkles and lines are visibly reduced. When this care product by Marbert Kosmetik online is used regularly, the skin receives new vitality, while the skin structure is perceptibly improved.* Vitamin Booster - the intensive vitamin serum Extracts of apples and limes in this concentrated Special Care Vitamin Serum supply every skin type with an extra portion of vitamin C and moisture. The skin is thus refreshed and especially protected against light-induced premature skin ageing. The facial skin regains smoothness and suppleness. The Vitamin Serum is non-comedogen. * Lifting Booster - the intensive firming serumThe serum generates a threefold effect on the skin, as it improves the wrinkle relief, long-lastingly alleviates wrinkles and lines, as well as combating the occurrence of unwanted expression wrinkles with a muscle-relaxing active agent. The facial skin is gently firmed, supplied with nutrients and regains suppleness. The facial expression appears more rested, smoother and more relaxed.* 24h Aqua Booster - an intensive moisturising serumA welcome solution especially for dehydrated skin. The high-quality and highly concentrated active agent combination of Aquapront®, Effipulp®, hyaluron acid and vitamin B3 has a fourfold effect on dehydrated skin. The facial skin is supplied with a large portion of moisture, making it visibly firm, smooth, well moisturised and padded out from inside out. Dryness wrinkles are visibly reduced and the skin pores are again refined. The result is a complexion with renewed health, freshness, regularity and radiance. The 24h Aqua Booster by Marbert Kosmetik online is dermatologically tested and non-comedogen.* PhytoCell - an energising serumWith the Phyto-Age? System this serum primarily supplies more mature skin with a regenerating effect. Effective and valuable care substances and vitamins in the serum energise the skin and prevent loss of moisture and elasticity. The facial skin appears younger, vital and radiant again.* I love Vitamins Gift Set - vitamin-rich facial care + eye careThe gift set in the Special Care Series by Marbert Kosmetik online contains a 50 ml package of the care product ""I love Vitamins"" for dry skin and a specific care product for the area around the eyes in a 15 ml package. Fruit extracts of lime and apple, apricot kernel oil, vitamins C and E supply the skin with pleasant moisture, protect it against light-induced skin ageing and nurture it, resulting in a soft and supple appearance. The eye care also includes caffeine, which causes swellings and dark circles under the eyes to subside.