Hair by Misslyn
With the liquid
hair make-up
by Misslyn women are taking their hairstyles into their own hand…
Learn more!
Hair Eyes by Misslyn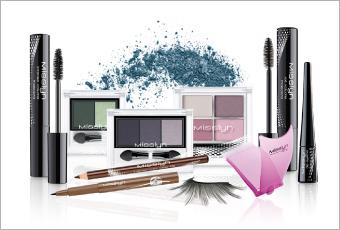 With the liquid hair make-up by Misslyn women are taking their hairstyles into their own hands and are simply creating fascinating and radiant colour effects with the radiant colours. Thanks to the large selection of many different colours, the most unbelievable styles and looks can be created. The colour effect is intensified through repeated application of the Hairlights Hair Mascara. Hair is not affected by the colour that is applied like a mascara and remains completely manageable. It doesn't matter whether wide or thin sections are coloured.
Hairlights Hair Mascara for colourful looks and extravagant styles
Hairlights Hair Mascara by Misslyn is available in 10 different colour tones and shades. The make-up for your hair stays until you next wash your hair and can be easily removed with shampoo and warm water. Since the colours are manufactured from natural raw ingredients, your hair is not damaged even with regular colouring. No silicones or mineral oils are used to produce the colour. The Misslyn make-up for hair is suitable for women with all normal hair types.