Original by Pino Silvestre
The fragrance label Pino Silvestre has held its own ground within the market for men's fragrances fo…
Learn more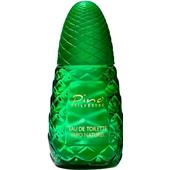 Pino SilvestreOriginal Eau de Toilette Spray
€15.95
/ 125 ml
BP: €127.60* / 1000 ml
Original Men's fragrances by Pino Silvestre
The fragrance label Pino Silvestre has held its own ground within the market for men's fragrances for almost 60 years. Created in 1955 by the perfumer Lino Vidal in Venice, the fragrance has since developed into a traditional brand with a wide range of products.
The aroma of pine needles captures the world of men's fragrances
The pine tree lends its name to the fragrance - it dominates the scent but does not attract attention on its own. The top note welcomes you with basil, bergamot, lavender, juniper berry and the freshness of lemon. Carnation and rose geranium, spicy caraway seeds and clary sage emerge in the powerful heart note alongside the pine needles. Amber, oak moss, musk, cedar wood and the warmth of tonka bean contained in the base note round off the fragrance to create a masculine and tangy presence. The tangy aromas of pine and fir showcase the masculine side of the fragrance perfectly in the Pino Silvestre Eau de Toilette Spray. The pleasantly fresh After Shave, Bath & Shower Gel, Shower Gel & Shampoo or Soap in the range as well as the Deodorant Spray create the best possible conditions in the morning for you to enjoy a successful day full of action.