Skin care advent calendars
Take care of yourself in the run-up to Christmas. Discover a new highlight for 24 days in your skin care advent calendar. Let yourself be pampered from head to toe with premium quality care products.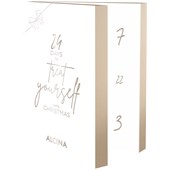 Skin care advent calendars for healthy skin in winter
The Christmas season is not just a time for special biscuits, mulled wine and cosy socks. For many, it is also a time of dry, stressed skin. At a time like this, what could be better than a skin care advent calendar? Twenty-four little doors filled with high-quality care products are just what you need to help your skin make it through the winter.
In winter, your skin is exposed to particularly unfavourable conditions. It is extremely cold outside but warm and dry inside. In a body care advent calendar, you will find everything that your skin needs. Nourishing bath additives and rich creams will make this Advent season more beautiful than ever. If you want to give your face a treat, parfumdreams also offers face care advent calendars with face masks, face creams and lots of other care products.
Skin care advent calendars as a pre-Christmas gift
If you're still looking for a little gesture for your loved ones, a body care advent calendar is always a good idea. It's a great way to dispense with routine and try something new for a change. Winter is the perfect time for this, because now is when the body is most in need of cosy comfort and care.
A great gift idea: skin care advent calendar for men
Sometimes it can be quite a struggle finding a present for a man. In the Advent season, a common choice is a classic advent calendar with chocolates. A skin care advent calendar for men makes for a nice change. Filled with care products for the body, face and beard, this kind of advent calendar is sure to put a smile on any man's face.
Shop skin care advent calendars at parfumdreams
Treat your skin to lots of love this Advent season. A skin care advent calendar gives you everything you need to do just that. From peelings to lotions and oils, it is full of treats for the skin.