Speciale by Ayer
The Speciale care line, which not only
nurtures and protects
your skin, but also removes cos…
Learn more!
Speciale Skin care by Ayer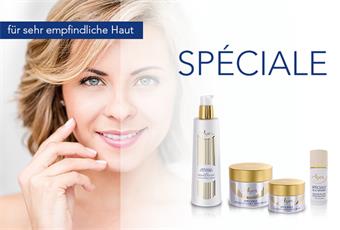 Special care for specific demands
The Speciale care line, which not only nurtures and protects your skin, but also removes cosmetics, comes from the House of Ayer. The founder of the company, Harriet Hubbard Ayer, recognised the importance of balanced and natural skin care 125 years ago. Always ahead of her time, she purchased a cream formula from a chemist and experienced a revolutionary success with it. Not just as the first woman, but also as the first cosmetic manufacturer ever, she built up an entire care series based on this cream.Speciale is a particularly delicate line, especially developed for sensitive skin. If your skin tends to redness and unpleasant irritations, then this care and cosmetic series is just right for you. As the skin is not just cleansed and nurtured, it is also protected against external influences. All products in the Speciale line contain the main active agent anthemis, acquired from Roman chamomile. Chamomile is generally known for its soothing properties, which is why it is processed into valuable creams, fluids and lotions. Enjoy the relaxing Ayer care.