Precious Moments by Betty Barclay
For more than five decades, Betty Barclay has been marketing exciting scents which embody
womanli… Learn more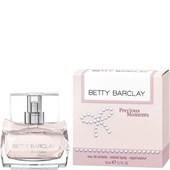 Betty BarclayPrecious Moments Eau de Toilette Spray
BP: €925.00* / 1000 ml
5/5 AggregateRating
Precious Moments Women's fragrances by Betty Barclay
For more than five decades, Betty Barclay has been marketing exciting scents which embody womanliness and elegance. Precious Moments is a further complement to the rich tradition of the company. The range is presented in a soft pink and embellished with a playful bow, which gives the perfume in particular a gorgeous character. Besides the eau de parfum and the eau de toilette spray, the Precious Moments range also includes scent gift sets, shower creams, lotions and body sprays. This allows the range to take its place alongside the other ranges produced by the brand, which also offer a comprehensive assortment of skincare products.
Delicate scent, inspired by femininity.
The Betty Barclay range of scents wins women over thanks to pleasantly delicate scents, which envelope the body like a gentle hint of love. The beguiling essences of the perfume range, which only came onto the market in 2014, are composed of top notes of blackcurrant, raspberry and green leaves. The heart of the women's perfume is a blend of freesia, peony and cardamom, while the scent has a base of caramel, vanilla, woody notes and musk. Simply dreamlike – just like all the women's perfumes from Betty Barclay!