Dangerous Woman by Bruno Banani
The perfume by Bruno Banani belongs to the fragrances, which are
incredibly fruity
. Women's f…
Learn more!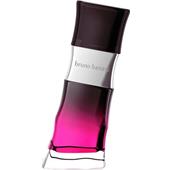 Bruno BananiDangerous WomanEau de Toilette Spray
BP: €54.75* / 100 ml
Dangerous Woman Women's fragrances by Bruno Banani
Bruno Banani introduces Dangerous Woman
The perfume by Bruno Banani belongs to the fragrances, which are incredibly fruity. Women's fragrances can leave you wanting more without loaded floral bouquets. The fragrance, which also comes as an extensive care range with a body lotion, shower gel, deodorant spray and as an eau de toilette, attracts your attention at first sight with its unusual flaçon. Bright pink and deep black are the shaping colours of the tilted flaçon, which has a steeper angle than the famous leaning tower of Pisa. Inside it is a clear, sweet fragrance. The eau de parfum Dangerous Woman contains pure blackcurrant in the top note, while the heart note Makes you think of a holiday in the Caribbean with exotic flowers and coconut milk. There are also gourmand notes. Heliotropes and a rich vanilla absolute in the base note. It is genuine vanilla, which makes the fragrance so warm, appealing and sensual. With Dangerous Woman, Bruno Banani has created a perfume, which is especially popular with younger women. At the same time, it has proven that women's fragrances do not have to contain roses.