Aroma Solutions SOS by Decléor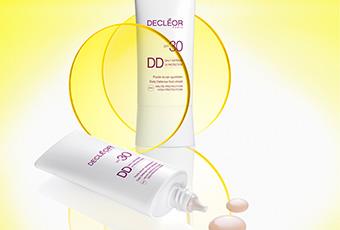 Aroma Solutions provides first aid for beauty problems of every kind. The SOS line comprises caring cosmetics for individual needs and always supplies your skin with exactly what it needs. Aroma Solutions brings a whole array of different products into one range. These include specific care products for tired eyes, refreshment for heavy legs as well as emergency help for chapped lips and damaged skin. No matter what the problem is, the Aroma Solutions line always has the perfect solution at hand. The development team combined highly-effective ingredients such as plant oils, various extracts and resins to regenerate your skin to the max.
Aroma Solutions - cosmetics for every occasion
Every skin is different. Decléor knows this and, in its SOS line, specifically addresses different skin types and various problems. Baume Lèvres Nourrissant is, for example, an effective lip care product which cares for and soothes chapped lips. Irritated areas are calmed. At the same time, regeneration is noticeably accelerated. With the Sérum Anti-Fatigue Yeux Hydrotenseur, Decléor presents a high-quality cosmetic product for the eye area. It provides the skin with a fresher, firmer feeling and gives you an altogether healthier, more awake appearance. Fine wrinkles and lines are visibly reduced. The SOS line from Decléor also presents preventative products for daily use, such as a special UV protection.