Nail clippers by ERBE
Nail clippers
are some of the most practical tools used for regular manicures and pedicures. …
Learn more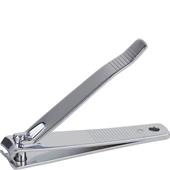 ERBENail clippers Nail clippers with nail catcher, 9.2 cm
BP: €3.32* / 1 pcs.
5/5 AggregateRating
Nail clippers Yes by ERBE
Nail clippers are some of the most practical tools used for regular manicures and pedicures. At the same time as trimming, the distinctive shape of the cutting edge also shapes the nails. In its Yes product range, the renowned Solingen manufacturer Becker Manicure offers various nail clippers that can be used at home and in a professional environment for specialist cosmetic use. Complemented by further tools from the brand, it is possible to produce extensive designs for toenails and fingernails because, in addition to scissors and files, Becker Manicure also supplies numerous specialist tools. Our Online Shop provides an extensive overview of Yes and other product lines, and offers you great value when placing an order.
Practical nail clippers with the highest quality materials
Compared to other nail care tools, nail clippers are operated by a lever mechanism. By pressing with the finger, it is possible to trim the overhanging nail. The semicircular cutting edge of all clippers offered by Becker Manicure in its Yes collection also makes manicures and pedicures easier. To be specific, the round shape of the nail is retained so that after trimming, only a little extra work with files and other tools is required. After using the clippers, a clever concept means that the lever can be folded up so that the clippers take up little room in your make-up bag or washbag.
Becker Manicure for all-round perfect nail care
For safe and easy use, the Becker Manicure nail clippers are available with various lever lengths to suit the size of the user's hand when doing manicures and pedicures. Many other nail care and beauty tools supplied by the Solingen company have such advantageous features - and not just those in the Yes collection. Our Online Shop provides a basic overview of the product range available from the traditional brand, which has helped provide professional nail care since 1930. Even the price-conscious can shop with us and benefit from using high-quality tools in their bathroom at home or their nail studio!