HSR Lifting by BABOR
The HSR® cosmetic line from BABOR is an anti-aging series for lifting different types of fine line a…
Learn more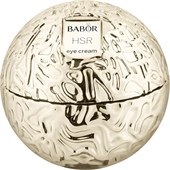 BABORHSR Lifting Anti-Wrinkle Eye Cream Rich
BP: €2,265.00* / 1 l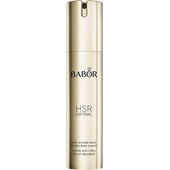 5/5 AggregateRating
HSR Lifting Facial care by BABOR
The HSR® cosmetic line from BABOR is an anti-aging series for lifting different types of fine line and wrinkle. The BABOR laboratories have set another milestone in the lifting arena with the facial products in this fine and luxurious anti-wrinkle series. Facial lines such as dynamic expression lines, static gravitational wrinkles and fine creasing, as well as the loss of tone as a skin problem, are combatted effectively with a combination of five high-performance active ingredients. Wrinkles are reduced and the skin is visibly smoother, more elastic and more youthful.
Five HSRs – High-performance active ingredients to work effectively against wrinkles of every kind
The facial care cosmetics in the HSR® lifting series developed by BABOR offer a range of anti-wrinkle creams, masks and serums to combat the various types of wrinkle on and around the face, particularly around the sensitive eye area. This highly effective lifting series is based on five HSR® highly-effective active ingredients.

The active agent "Multiendyn Plus" combines extracts from soja bean, peas, millet and tannic acid, and reduces wrinkles caused by an age-related breakdown in elastin and collagen. With the active ingredient "Lupinus", derived from extract of lupin and sunflower oil, gravitational wrinkles (such as nasolabial folds, those at the corners of the mouth or on the neck) are reduced and the contours of the face are toned. "Carnosin" (nature-identical amino acid L-Carnosine) reduces wrinkles caused by glycation. The fourth HSR is "Relaxo Peptid", which is an oligopeptide derived from hibiscus seeds. It reduces expression lines such as crow's feet, frown lines or lip lines. The fifth active ingredient, "Neuro-Rezeptor-Peptid" – a hexapeptide-47 derived from plant protein and effective in combatting fine creasing – serves for a smoothing of the skin and a firmer skin.

Working in perfect harmony together, these five highly-effective active ingredients impress with their effectiveness in the HSR® facial care range. The eye area are provided with their own particular lifting programme, thanks to a special extract from the Persian silk tree: This ingredient lifts the upper lid and strengthens the tissue around the eyes. The innovative facial care products of the BABOR HSR® series visibly reduces unflattering wrinkles and ensures a beautiful, revitalised, youthful appearance.