Cleansing by BABOR
The Cleansing CP facial care line from BABOR provides a comprehensive range of high-quality
cosme… Learn more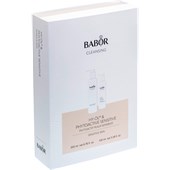 BABORCleansing HY-Oil & Phytoactive Sensitive 2022
BP: €41.95* / 1 pcs.
5/5 AggregateRating
Cleansing Facial care by BABOR
The Cleansing CP facial care line from BABOR provides a comprehensive range of high-quality cosmetics for the thorough, careful and deep cleansing of the facial skin. Without proper cleansing, the skin has a difficult time absorbing those ingredients in a targeted care treatment that are designed to have an active effect. This effective range of products is based on the contrasting natural elements of oil and water, which both possess cleansing as well as revitalising and nourishing power.
Deep cleansing for the face with Cleansing CP cosmetics


The BABOR Cleansing CP collection offers a wide range of high-quality facial care products, which have a synergetic cleansing and nourishing effect. The basis and the focus of the line is the 2-phase Hy-Öl facial cleanser – a BABOR classic that proves itself time and time again. It is a hydrophilic cleansing oil, which, when applied to dry skin, lifts the oil-soluble substances and frees the skin of them. At the same time, pure, natural oils such as sesame oil, peanut oil and soja oil pamper the skin and protect it from drying out. In combination with the Hy-Öl, the phytoactives matched specifically to the respective skin type ensure in the 2nd phase (through the addition of water) for the removal of water-soluble impurities on the skin. Thus, in combination, both oil-soluble and water-soluble impurities are removed from deep within the skin. The skin is cleansed thoroughly, can breathe again, glows with a fresh, invigorated complexion and is ready to absorb the special active ingredients in the various Cleansing CP products or other BABOR care products and allow them to take effect.

All products in the Cleansing CP facial care range cleanse the skin intensively and thoroughly whilst maintaining the skin's natural acidic protective mantle. The product range also includes effective cleansing brushes for practical support of the facial cleansing process.