Code Orange by George Gina & Lucy
The ladies' fragrances by George Gina & Lucy always stand out, whether because the bottle comes deco…
Learn more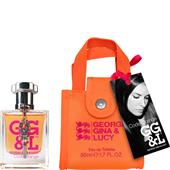 George Gina & LucyCode Orange Eau de Toilette Spray
BP: €31.92* / 100 ml
5/5 AggregateRating
Code Orange Women's fragrances by George Gina & Lucy
The ladies' fragrances by George Gina & Lucy always stand out, whether because the bottle comes decorated with a practical carabiner as a gift or because the bottles are so colourfully presented. Code Orange brings its own bag with it, giving you a little hint that it would like very much to go home with you. The perfume first came onto the market in 2015; it is fruity, sweet, and will put you in a good mood. The George Gina & Lucy fragrances are distinctive in their unusual and youthful compositions, which largely appeal to younger women and girls who are still discovering the world of fragrance. Code Orange is the perfect match – fresh, cheeky, cheerful and irresistable, but at the same time light and carefree.
George Gina & Lucy - Code Orange: very new, very light, very delicious
In the top note await green nuances, orange and blackcurrant. The middle note begins with coconut and strawberry framed by iris and jasmine. The base note finally brings sweet aromas from vanilla and patchouli, the light bitter note of oak moss and the warmth of musk. Fragrances like Code Orange fit everywhere and every occasion, and on cooler days in particular, the fruity aromas will bring back the sun. But you get to decide where and when you wear Code Orange because the perfume is just as individual as you are yourself. Of course the perfume makes a fantastic gift, not just because of the pretty bag that has become a trademark of the scent.