Eau de Monsieur by Goutal
The Eau de Monsieur line by Annick Goutal is aimed at the monsieur, as its French name suggests - th…
Learn more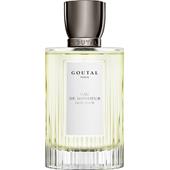 Eau de Monsieur Men's fragrances by Goutal
The Eau de Monsieur line by Annick Goutal is aimed at the monsieur, as its French name suggests - this means, it is aimed at the man's world. The perfume of the same name aims to be an ode to masculine elegance and gives new life to an established creation by Annick Goutal. The concept for the fragrance was created by Isabelle Doyen and Camille Goutal, and it comes in a classic transparent flask with a high-quality logo. The initial freshness of the men's fragrances is a prelude for a masterpiece of fragrances, which cannot hide its sensuality even in the heart note.
An enveloping fragrance with a pleasant freshness
The classic men's fragrance appeals to men of all ages, also because it has become more open and more exclusive thanks to the modern adjustments by Camille Goutal. This is thanks to reviving mint in the head note, which is paired with bergamot and fruity mandarin. The heart of the fragrance will delight you with aromatic wormwood and with various spices and Egyptian geranium, which has a sensual and romantic effect. The warm base of the Eau de Monsieur fragrance line consists of sandal wood and patchouli, which is simple yet effective.